we think about measurement

E Series Electromagnetic Flowmeter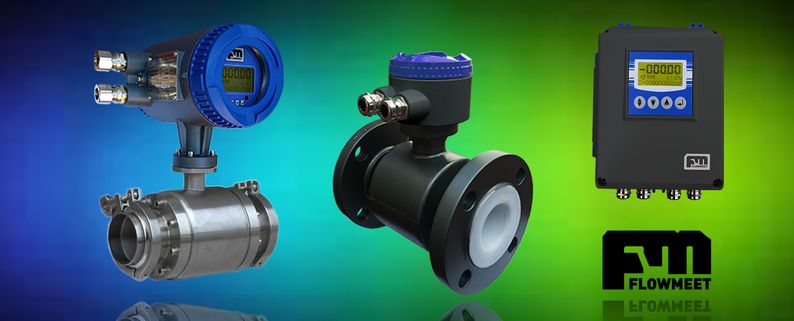 Download files
Manual de usuario FM-200E (ESP)
In the E Series you will find the electromagnetic type flowmeter for your application. This type of flow meter can be used for virtually any fluid with some electrical conductivity. They do not have moving parts, they do not reduce the section and they can be covered by Neoprene, PTFE, PFA, ceramic, etc. Due to these characteristics, these equipment have the virtues so desired for all flowmeters: not producing pressure drop, being free of maintenance, being suitable for applications as diverse as wastewater treatment, pharmaceutical applications, food industry, etc. If your liquid is electrically conductive, a FLOWMEET magnetic flowmeter is the ideal flowmeter.

Standard Model Tables for E Series

(stock models with immediate delivery, other configurations on request)
Flange flowmeter # 150 permanent stock - More than 3 "
4"
6"
8"
10"
12"
14"
16"
16
16
16
10
10
10
10
20
28
50
70
95
120
140
250
300
350
450
500
550
600
52x37x32
PTFE/Neoprene

1

Neoprene

1

Neoprene

1

Neoprene

1

Neoprene

1

Neoprene

1

Neoprene

1

-10/80
-10/80
-10/80
-10/80
-10/80
-10/80
-10/80
-10/60
-10/60
-10/60
-10/60
-10/60
-10/60
-10/60
14/424
31/954
56/1600
88/2600
127/3800
173/3800
226/6700
Permanent stock sanitary flowmeter
1" tri-clamp
1" tri-camp
2" tri-camp
30
30
20
6
196
PFA
PFA
PFA
-10/120

2

-10/120

2

-10/120

2

-10/60
-10/60
-10/60
0.34/9
0.88/26
2.2/67
5.6/150
14/440
36/1110
1 Other coatings are possible, the most frequent are tabulated for that diameter
2 If the instrument is remote, the maximum temperature range can be extended by 10 degrees
Technical data

Body and flange material: Carbon steel (for stainless steel see our ES Series line).

Connection process: ASME / ANSI # 150 flange (other series on request).

Error less than 0.5% in standard equipment (mean value 0.35%) - for the range from 0.5 m / s to 15 m / s.

Error less than 0.25% in equipment on demand - for the range from 0.5 m / s to 10 m / s.

Standard calibration 5 points from 0.5 m / s to 5 m / s.

Minimum fluid conductivity 20 microSimens / cm standard model, 5 microSiemens on request.

Electrode material: 316L, other options are Hastelloy B and C, Titanium, Platinum-Iridium, Tantalum, Tungsten Carbide.

Degree of protection: IP-65/67 (optional IP-68 by remote indicator).

Protection EX IIC T4.

Power supply: 24 VDC.

Output: 4-20 mA.

Low flow alarm.

High flow alarm.

Pulse output / Frequency output.

Bi directional flow indication.

Coatings available

The standard models table lists the equipment with the configuration of coatings that we continuously have in stock, although these cover a large number of applications, other coatings are quite common, in what follows a list of the coatings we offer and their characteristics.
PTFE
Cost, for diameters up to 6 "it has low or moderate costs.

Very good chemical stability.

Applicable to corrosive fluids, strong acids and bases.

Good resistance to abrasion.

Good resistance to compression.

PFA
Medium to high cost, depending on the installation diameter.

Excellent chemical stability, among the most stable plastic materials that exist.


Applicable to corrosive fluids, strong acids and bases.

Good resistance to abrasion.

Excellent compressive strength (used in hydraulic fracturing applications up to 250 kg / cm2).
Neoprene
Low cost, use in large diameters is justified, otherwise PTFE will be a better option.

Excellent elastic behavior.

Excellent resistance to abrasion.

Good chemical resistance, applicable to fluids with medium or low acid concentration.

Not applicable to oxidizing fluids.
Common applications

Volume measurement for wastewater treatment.

Water purification and desalination.

Well stimulation in oil applications.

Hydraulic fracture.

Preparation of water-based additives in chemical industries.

Measurement of food products, soft drinks, wines, milk.

Reactor filling control for the preparation of water-based solutions.
Electromagnetic Flowmeter Description

Electromagnetic flowmeters are devices that generate a magnetic field inside the pipe to determine the speed of the fluid inside it. Due to the lack of moving parts, mechanical or obstructions, they become excessively flexible equipment when measuring fluids for a wide range of conditions, be it pressure, temperature, abrasion and / or viscosity. The only requirement that this technology presents is that the fluid to be measured must present a certain conductivity.